5 Places to Visit in Brickfield Road, Salt River
Posted by ROWDY BAGS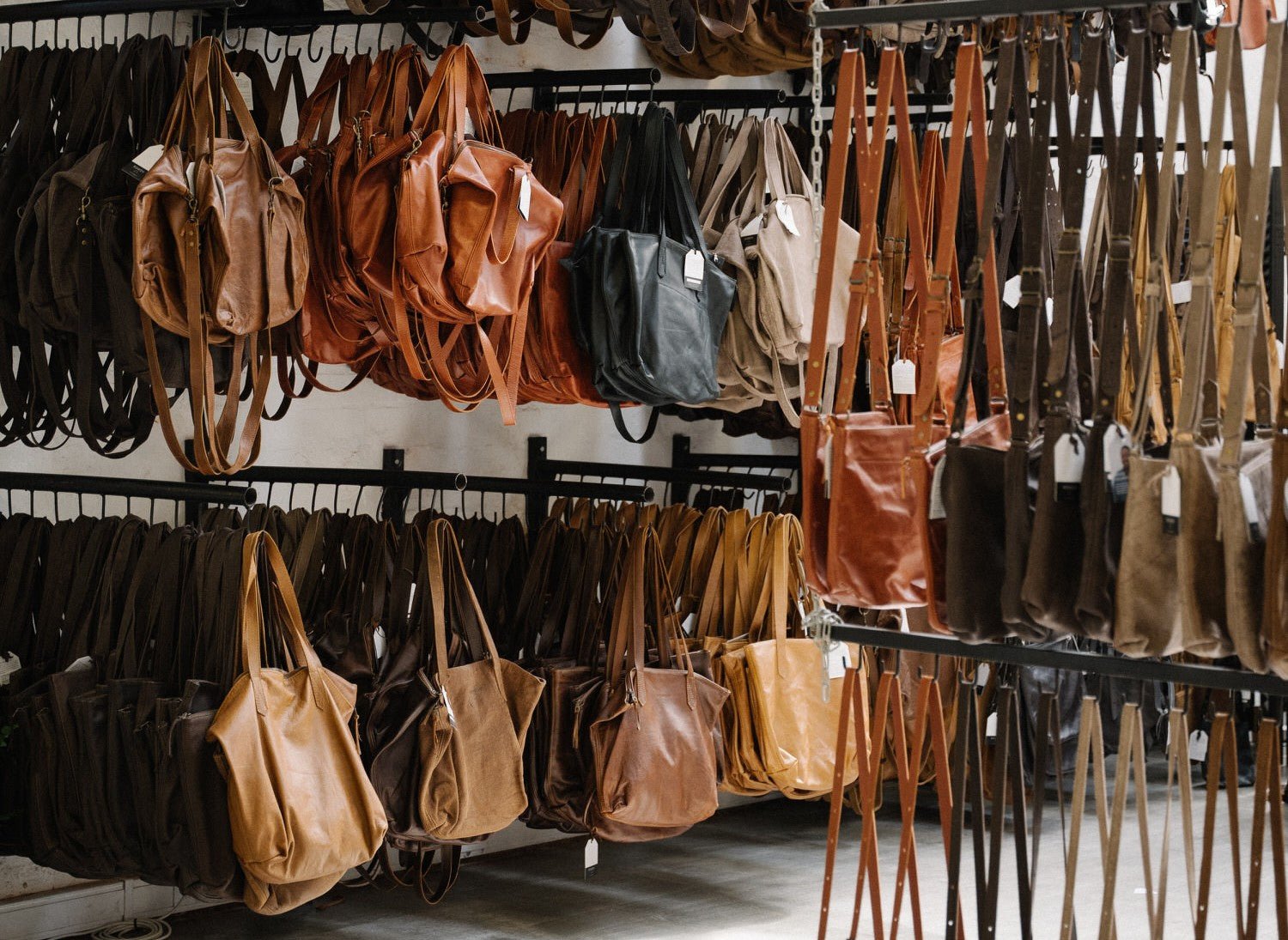 Since 2012, Salt River has been the home to ROWDY. In September 2018, we found a new spot for ROWDY at 20 Brickfield Road in Salt River - a buzzing street filled with a world-leading hotel, a popular art supply store, two bakeries and a coffee shop. Here are our top 5 spots to visit in the up-and-coming Brickfield Road:
1) ROWDY Factory & Shop | Leather Bags
Located at the very top of Brickfield Road, the goal for the new ROWDY factory and retail store has been to create a destination for both local and international visitors. Filled with plenty of natural light and a jungle of indoor plants, the space is a reflection of the characters that work within it. White walls and a bold R O W D Y written in huge, black lettering on the wall complement the rich, textured browns and amber hues of the leather bags that hang from the industrial-style displays. Factory tours are available. Local street artist Paul Seynol created a mural inspired by ROWDY's two limited edition shades called Boulder and Root to greet visitors on the outside façade. Every day, music booms from the space, with the words 'One Love' and 'Blessed' watching over the factory team as they work. European accents from visiting customers blend in with the hum of the sewing machines, team banter and drill presses. Shop hours have been extended to be open on Saturdays. It's a must-see, if we do say so ourselves. 

Open Monday - Saturday
Weekdays: 8am - 5pm
Saturday: 9am - 4pm 


2) BeerGuevara | Brewing Supply Company
Directly opposite ROWDY, in Brickfield Junction, are our very cool neighbours, BeerGuevara. As a Brewing Supply Company started in 2012 by brothers-in-law Anthony Cawood and Andrew Cook, the duo source ingredients and equipment to help you make great beer. Whether you're a raw recruit, a brewing adventurer considering going commercial, or already at the helm of a cult microbrewery, BeerGuevara has you sorted. 

Monday - Friday: 9:30 till 5:00
Saturday: 9:30 till 12 noon


3) Deckle Edge | Art Supplies




Salt River is well-regarded as Cape Town's artistic centre, attracting street artists and art colleges alike. For all the creatives, Deckle Edge forms a bit of a mecca as a place to source art supplies. It's also secretly one of our favourite spots to wander around and dream about our goals of becoming famous water-colour painters. Whether you're looking to stock up on anything from paper, pencils, paint or art tools, this is your jam. 
Monday to Friday: 08h30 – 17h00
Saturday: 08h30 – 13h00

After all that browsing, you must be needing an energy kick! Luckily, Brickfield Road's got your back, with the recent introduction of a bustling Cape Town artisanal coffee shop and roastery, Bootleggers. Bootlegger Coffee Company was created in 2012 (clearly a good year for entrepreneurs!) by 3 best friends, Pieter Bloem, De Waal Basson & Antonie Basson. The brand has now grown into multiple businesses all over Cape Town and Johannesburg and still expanding. We love it for the free wifi and R19 coffee until 8:30am. 
Monday to Friday: 06h30 – 18h00
Saturday: 08h00 – 15h00 
5) DoubleTree by Hilton Hotel - Upper Eastside| Food Court
Located directly opposite ROWDY's Brickfield Junction, is the DoubleTree Hilton Hotel. While the hotel is great, to use the real attraction is inside the building, on the ground floor. If you're feeling peckish, then the Upper East Side Food Court offers a veritable cornucopia of food to select from, from South Korean chicken to local sarmies. It's worth a little visit, and on a hot day, the air con is welcome if you're wanting a cooler spot to eat lunch.
Monday to Friday: 8am - 5pm (Opening hours vary per restaurant) Collection 2019 Sale 70% Off Title for image