Beyond a Baby Bag
Posted by ROWDY BAGS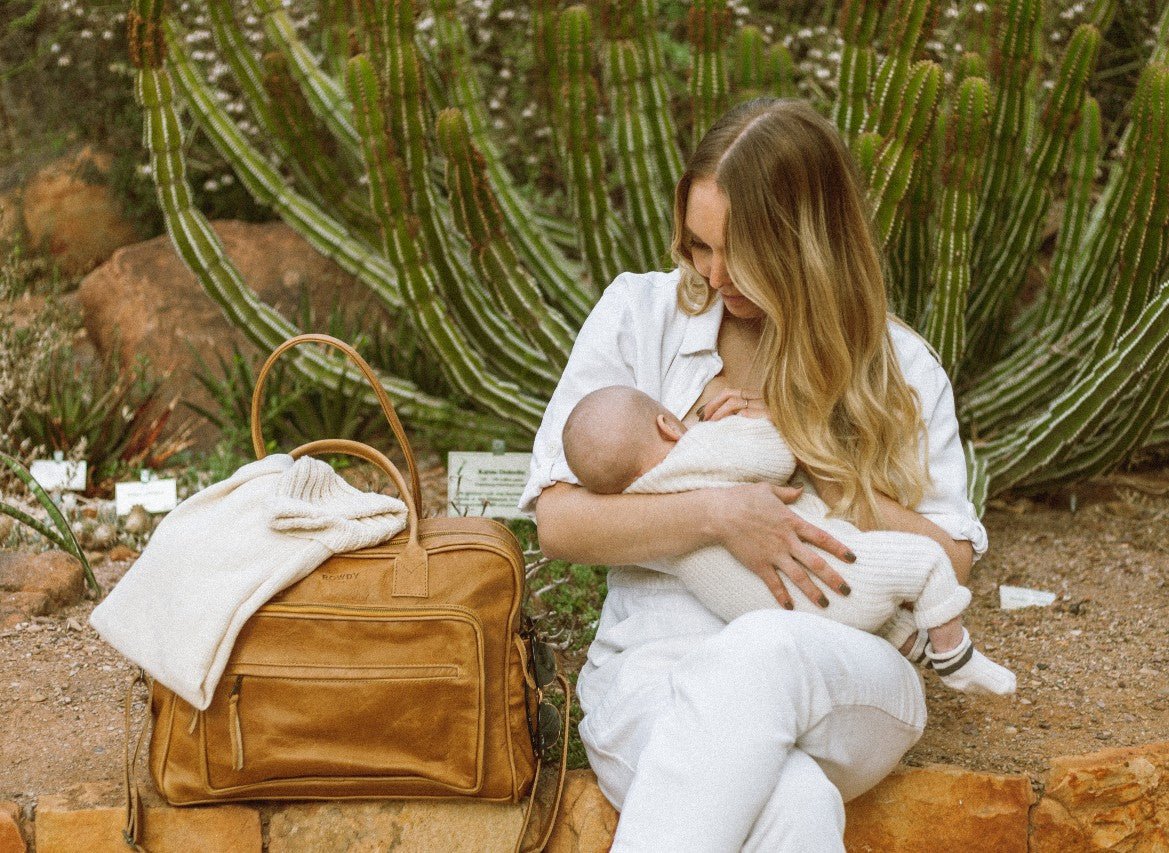 After years of requests, we finally got down to designing the ultimate utilitarian carry-item. So, without further ado, we are proud to welcome our newest creation into the world, the ROWDY Baby Bag! 
Born out of a desire to help parents move freely in the world and look great while doing it, the Baby Bag is made from our buttery, free-range, genuine African leather sourced from our specialist tannery in Namibia. 
The durable bag boasts a carefully arranged array of features that marry form and function effortlessly including multifunctional design for a variety of styling options, pram clips, an easy-to-clean drop-in waterproof lining, plus plenty of considered storage compartments complete with a 15" laptop pouch making this the ultimate bag that's easy, comfortable and provides safe and secure transportation for your essentials.
Pack parenthood into the optimum carry companion that promises stylish loyalty and practicality for years to come, available in all 9 ROWDY shades online and in-store.
They say it takes a village to raise a child. Maybe that's true, or maybe it just takes a damn good baby bag!
Full Features:
Multifunctional Design: Set your straps to be used as a rucksack or a shoulder bag - hidden underneath the shoulder strap padding is a hook that attaches to the body of the bag to turn into a rucksack 
Pram Clips: The Rucksack / Shoulder strap of the Baby Bag triples up as pram hooks / holders.
Spacious: For easy access and organisation, we have incorporated several well-sized compartments including:
OUTSIDE
2x zipped compartments in front (waterproof)
2x bottle compartments on each side (waterproof)
1x zipped large compartment at back (waterproof)
INSIDE
2x slip pockets + 1x side laptop sleeve for up to a 15" laptop (inside one side of divider - not waterproof)
2x slip pockets on inside of other divider (waterproof)
Waterproof Lining: In the main compartment, drop-in waterproof lining can be pulled out and easily cleaned. The second main compartment is lined with black cotton for extra clothes and swaddling cloths
Easy Access: The extra wide zip makes it easy to find essentials in no time
Bottle holders: Two waterproof-lined bottle holders are located on either side of the bag 
Comfort: The long shoulder strap contains a shoulder pad for comfort 
Dimensions: 14cm (width) x 31cm (Height) x 41cm (Length)
The ROWDY Baby Bag. Designed with intent. Crafted with consideration. Created for parents with purpose.
PRE-ORDER NOW. 
Models: Amanda and Katleho Lepati; Emma-Jane and Dylan Harbour Collection 2019 Sale 70% Off Title for image